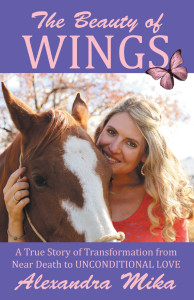 The Beauty of Wings is a magical true story of inner transformation. It unravels the details of author Alexandra Mika's healing journey, from an excruciatingly painful childhood of bullying, exclusion, and asthma to her mid-twenties filled with anorexia, pneumonia, panic, and suffocation to near death. Through dedication and determination Alexandra propels herself out of dark waters and comes home to her natural state of bliss, radiant health, and love. Journey with Alexandra on a pilgrimage of self-awakening through Reiki (energy healing), a profound connection with an extraordinary horse, connecting deeply with the natural world, yoga, and learning to love herself unconditionally. Through the metaphor of lungs as butterfly wings, readers journey from the dark isolation of the cocoon into the freedom and majestic nature of the butterfly. The Beauty of Wings reveals the unlimited potential of the human spirit and the capacity within the heart for healing, transformation, and unconditional love.
Alexandra Mika is the author of The Beauty of Wings, a registered nurse, Reiki Master, certified yoga instructor, and artist. After a profound healing transformation, Alexandra realized that the energy of the heart can transcend anything. Alexandra enjoys guiding people towards well-being, joy, unconditional love, and freedom. She spends her free time with nature and animals.
Alexandra is available for conferences, presentations, and speaking engagements.
She is also available for one on one healing sessions.
Contact her: beautiful-wings (at) alexandramika.com 
As I open like the radiant sunlight, dwell in my eternal light, and practice the power of love I begin to expand my horizons and I can truly breathe. As I unconditionally love all that is I am reminded of what is real and that only love truly exists.
As I align myself more clearly than ever before with my heart-space, live with humility, grace, and compassion I am reminded of my own eternal freedom, my true heart-space and I begin to believe that each living creature is only a heartbeat away from flying FREE.